Working as governor's cameraman cannot make you a governor -Fashola tells Adediran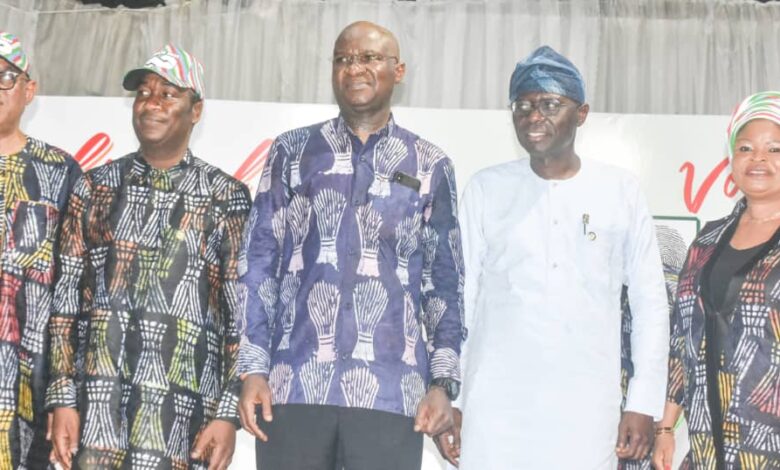 Former governor of Lagos State and Minister for Works and Housing, Babatunde Fashola on Thursday told the governorship candidate of the Peoples Democratic Party (PDP), Olajide Adediran (Jandor) that working as a governor's cameraman cannot make him a governor.
Fashola stated this at the formal launch of 'Eko O ni baje's 10,000 foot soldiers for Tinubu/Shettima and Sanwo-Olu/Hamzat' initiated by him.
He said all roads leading to Lagos was done by the All Progressives Congress (APC).
"Some people say they will take the land from us, that is too much. I did the Job of governor for eight years and part of what helped me was that I was Chief of Staff to the governor,, even that was not enough. So just following a governor being a cameraman and then watching me for eight years then you think you will now be a governor, you are not ready. Come to our leadership school, you are not yet ready.
"That is why you will see that they are focusing on the N51 billon Lagos State is generating. You did not see the immigrant population that is coming into Lagos everyday. The bigger the prosperity, the bigger the problem. Their party don't see people,they don't see the problem," he said.
Fashola also encouraged members of APC to canvas massively for the party, telling them to vote for the party.
In his address at the event Governor Babajide Sanwo-Olu said nobody has the credential like Tinubu to become President, noting that Lagos will deliver the largest vote for APC.
"I want to thank our minister and all those who have worked with him, especially his 10,000 foot soldiers. That five million vote will come out. Tinubu is the best for Nigeria. Nobody has a credential like Tinubu to become President; that is why we truly believe in him. We will deliver the largest number for our Presidential candidate," he said.
Sanwo-Olu also noted that the Lagos State government would from this weekend begin to distribute food packs to cushion the effect of the Naira and fuel scarcity which Lagosians are facing, because his government care more about the people and not for politics sake.
Also at the event, The Speaker, Lagos State House of Assembly, Mudashiru Obasa urged party faithful and supporters to be dedicated, committed, enlighten and educate others on the importance of the election, describing the event as crucial to disseminating information about the electoral process.
Also the state Deputy Governor, Obafemi Hamzat enjoined parents to enlighten their wards, especially youths on the need to vote for the presidential candidate of APC, Bola Tinubu who has a pedigree based on his developmental strides as a former governor of Lagos State.
In their goodwill messages some party faithful and leaders, including, Minister of Science and Technology, Olorunimbe Mamora, former Deputy Governor of the state, Adebisi Sosan, Senator Gbenga Ashafa took their turn to urge party faithful to go out en masse to canvass votes for the candidates of the party in the forthcoming general elections.