World Athletics Championships: Brume makes final, Enekwechi, Usoro out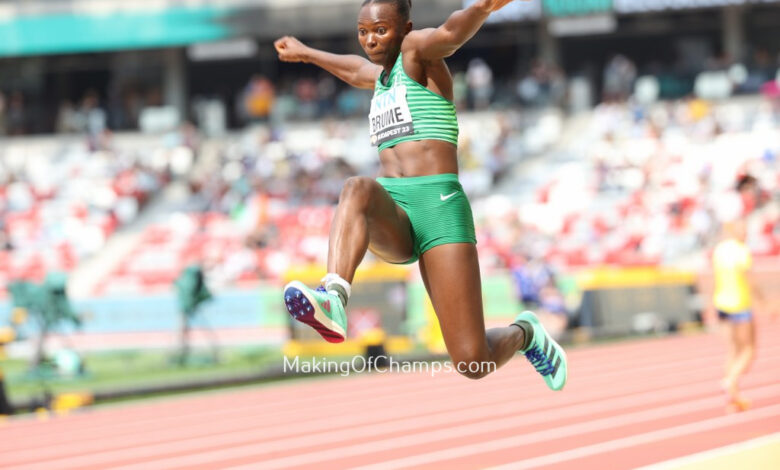 …Ashe false starts, Ogunlewe, Itsekiri in semis
Ese Brume qualified for the final of the women's long jump in the day one of World Athletics Championships holding in Budapest, Hungary.
The 27-year-old who has won a medal in the last two editions of the competition – silver in Eugene last year and bronze in Doha in 2019 – jumped a best distance of 6.72m in the second round to place fourth in the Group A of the qualification round and eighth overall.
She had a jump of 6.65m in the first round of jumps and 6.69m in the third round.
Compatriot, Ruth Usoro was however not lucky, finishing 13th overall, just missing the top 12 cut with a best jump of 6.60m in the third round of jumps after leaping 6.50m and 6.40m in the first and second rounds respectively.
Nigeria began it's participation in the competition with Chukwuebuka Enekwechi taking part in the men's discus event.
Just like Usoro, Enekwechi just missed qualification for the final by a spot, placing 13th in the round with 12 placed assured.
The African Champion had a no throw in the first round of throws, then hit a distance of 20.41m and 20.68m respectively in the second and third rounds.
The mixed 4x400m relay team also failed to qualify for the final.
The quartet of Dubem Nwachukwu, Patience Okon-George, Ezekiel Nathaniel and Imaobong Nse Uko placed seventh in heat 2 of the competition with a season's best time of 3:14.38s.
In the men's 100m, Favour Ashe had a bad night as he false started and was disqualified from heat, while Seye Ogunlewe and Usheoritse Itsekiri qualified for the semi finals, placing third in their respective heats.
Day 2 of the World Championships is action packed for Nigerian athletes with 10 of them taking part in various events.
Ashley Anumba opens the day's actions in Group A of the women's discus event, while Uko takes part in heat 3 of the women's 400m event alongside defending champion Shaunae Miller-Uibo, where she is drawn in lane 2.
Nwachukwu will also feature in the heat 4 of the men's 400m heat while Chioma Onyekwere and Obiageri Amaechi are billed for action in the Group B category of the women's discus event.
Ezekiel Nathaniel is expected to feature in the men's 400m hurdles, while in the women's 100m event, Nigeria's only representative, Rosemary Chukwuma, will have World Leader Shericka Jackson to battle with in heat 4.
Itsekiri and Ogunlewe will also vie a place for the final of the men's 100m which holds later in the evening, while Ese Br will hope to win a medal for the third consecutive World Championships in the women's long jump final.