Yari: I never believed illegal gold mining was security problem in Zamfara until I left office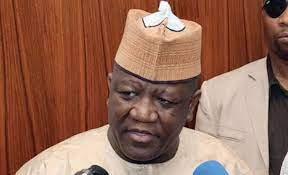 Former Zamfara State Governor, Abdulaziz Yari, has stated that he was unaware of the security challenges caused by illegal gold mining in the state while he was in office.
He made the remarks while fielding questions from state house correspondents at the Presidential Villa in Abuja on Thursday.
Mr Yari said he only became aware of the security challenges after he had a conversation with security experts during a trip to the Netherlands.
He said the insecurity troubles in the state of Zamfara were largely caused by either cattle rustling or human addiction.
Zamfara has been a hotbed of widespread security challenges in the northwest region which security experts and officials say were mostly caused by illegal gold mining in his state.
"When I was there, I actually didn't believe the issue of mining was one of the problems (insecurity). But when I was out I began to look at it while attending so many lectures.
"Because of the people that are causing this trouble; I want you to look at it and study it carefully on the relationship and the mining and its risks. This insecurity is either cattle rustling or human addiction.
"And when you say mining I ask what it is? One programme I attended in the Netherlands, someone told me that if there is no insecurity issue it would attract investors to come in for the real activities of the mining.
"But when there is this issue of insecurity where there are those that are working against you whether they are working in the country or outside the country then they would succeed in encouraging those issues of insecurity to be there so that you cannot benefit from the endowment of what God has blessed the country with.
"Then I began to think about it and a year after that when I left the office some groups protested in a local government that they do not understand why they are saying that the issue with insecurity and the mining are not together.
"The locals are being attacked daily, while the people that are mining are being free. So they start to put the two together contemplating that either those that are doing the mining are supporting the bandits or whatever. So the locals protested that those miners leave the place.
"As we all know about the law, the state government does not have control over the resources. So there is not much the state government can do.
He said he is confident that the current President Bola Tinubu administration would handle the issue of insecurity, stating further that there have been talks with the National Security Adviser on how to solve the problem.
"But I can tell you about the issue of mining and the insecurity they may have in a relationship. And I believe the president is doing his best in which he has started a lot of conversations with the National Security Adviser on the issue of insecurity."