Zenith Bank leads 10 other companies in N92.71bn unclaimed dividend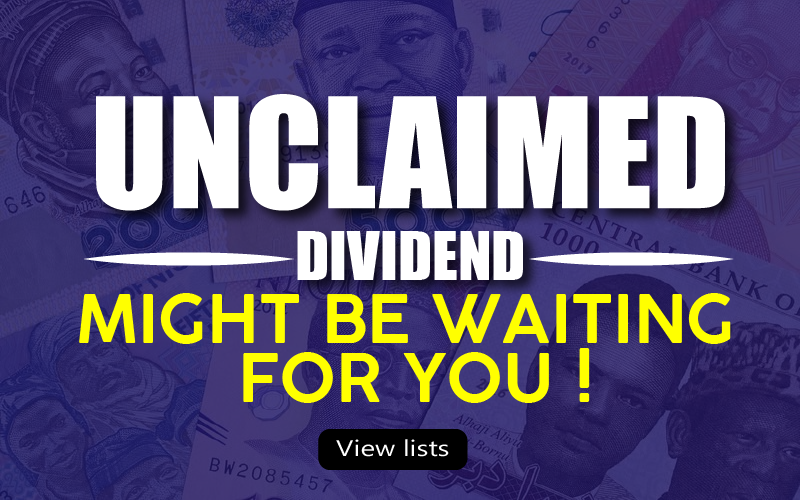 Amid inconsistent sensitisation initiatives and investors' apathy, a total of 11 listed companies on the Nigerian Exchange Limited (NGX) reported accumulated N92.71billion outstanding unclaimed dividend in 2021.
The 11 companies reported N78.2 billion outstanding unclaimed dividend in 2020, representing an increase of 19 per cent when compared to 2021 unclaimed dividend.
Unclaimed dividend is the dividend which is being paid by a company but the shareholder has not claimed the dividend. Unclaimed dividend is to be paid by companies as and when demanded and hence is a liability for the companies.
Unclaimed dividends, according to the Director-General, Securities & Exchange Commission (SEC), Mr. Lamido Yuguda are caused by multiple subscriptions, in which some investors used various methods to subscribe for more than the allowed amount of shares during public offerings.
Despite the fact that dividends are now issued electronically, Yuguda disclosed that there is still a large number of unclaimed dividend. He said that the number of unclaimed dividend would plummet if all shareholders with securities on the Nigerian capital market mandated their accounts.
Extracts from the affected companies audited results and accounts for the period ended December 31, 2021, revealed that Zenith Bank Plc, followed by Access Bank Plc have the highest amount of unclaimed dividend in the banking industry.
As gathered by WesternPost, Dangote Cement Plc, followed by Nestle Nigeria Plc have the largest amount of unclaimed dividend in the manufacturing sector, given the years both companies have been rewarding shareholders with dividends payout and bonuses on their investment.
Other notable companies with unclaimed dividend are United Bank for Africa Plc (UBA), FBN Holdings Plc, Nigerian Breweries Plc, Stanbic IBTC Holdings Plc MTN Nigeria Communication Plc, Lafarge Africa Plc, and Seplat Petroleum Plc.
According to the 2021 audited results, Zenith Bank's unclaimed dividend hits N28.65billion, representing an increase of 2.2 per cent from N28.04 billion reported in 2020. Access Holdings reported N17.28billion unclaimed dividend in 2021, an increase of 9.8 per cent from N15.73billion in 2020.  
FBN Holdings reported 24.2 per cent increase in unclaimed dividend to N11.95billion in 2021 from N9.62billion in 2020, while UBA's unclaimed dividend rose significantly by 49.8 per cent to N11.5billion in 2021 from N7.68billion in 2020.
As Dangote Cement reported N4.6billion unclaimed dividend in 2021, an increase of 15 per cent from N4billion in 2020, Nestle Nigeria reported N6.6billion unclaimed dividend in 2021 from N5.57billion in 2020.
Nigerian Breweries closed 2021 with N4.6billion unclaimed dividend from N900million reported in 2020, as Stanbic IBTC Holdings grew its unclaimed dividend by 11.09 per cent to N3.54billion in 2021 from N3.18billion in 2020.
MTN Nigeria Communication reported a total amount of unclaimed dividends outstanding as at December 31, 2021 at N1.65billion from N1.36billion in 2020.
In addition, Lafarge Africa reported N1.43billion outstanding unclaimed dividend in 2021 from N1.27billion in 2020, while Seplat Energy reported N920 million ($1,567,445.75 and N291,913,855.20.) unclaimed dividend in 2021 from N856million (US$593,230.86 and ₦642,070,562.85) in 2020.
According to capital market stakeholders, as the companies declared dividend payout in audited results for the period ended December 31, 2021, unclaimed dividend in the Nigerian capital market is expected to soar when audited results for the period ended December 31, 2022 are released to investing public.
They maintained that these unclaimed dividends are accumulated amounts mostly constituted before Securities and Exchange Commission (SEC) introduced Electronic-Mandate initiatives, targeted at tackling unclaimed dividend menace in the Nigerian capital market.
They added that multiple subscriptions, incorrect data and sensitisation by market regulators are major challenges contributing to unclaimed dividend in the Nigerian capital market. 
Speaking from a shareholder's perspective, the National Coordinator, Independent Shareholders Association of Nigeria (ISAN), Dr. Anthony Omojola said many shareholders have not key into the E-mandate introduced by SEC, blaming it on Annual General Meeting (AGM) held through proxies.
"Since the proxies AGM were introduced due to social distancing, most shareholders do not know what dividend a company is paying.
"Companies are taking advantage of the proxies AGM and are not printing audited accounts for shareholders to know dividend payout. Besides, they do not print and post to shareholders like they normally do before the pandemic and it has contributed to unclaimed dividend in the capital market."
Managing Director/CEO of First Registrars & Investor Services Ltd, Mr. Bayo Olugbemi said: "If companies keep declaring dividend, certainly there will be increase in unclaimed dividend. Those that collected in 2020 might not likely collect in 2021.
"They might be out of the country, in jail for years and some other reasons. Once a shareholder does not give his bank mandate to registrar, the dividend remains unclaimed."
He urged market stakeholders to keep encouraging shareholders to mandate on the E-dividend platform initiative of the SEC.
CEO, Wyoming Capital & Partners, Mr. Tajudeen Olayinka said: "The truth is that some investors are yet to actualize E-dividend mandate by SEC, and they appear to be in large number.
"Some of them are outside Nigeria, and have been away from the country for quite a long time. Some are late, while some others may have reasons for temporarily staying away.
"Unclaimed dividends won't just go away overnight. That is why government should desist from tampering with unclaimed dividends, and allow CAMA 2020 to be the guiding policy document for managing unclaimed dividends in Nigeria, the same way we have it in more developed markets of Europe and America."
He noted that the E-mandate by SEC is playing its role, calling on investors to embrace the policy