Zenith Bank, others record N57.96trn total assets in 2022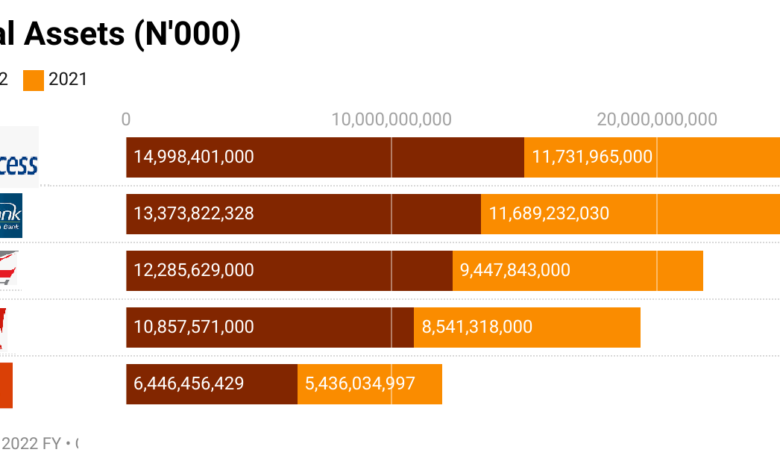 Five Domestic-Systemically Important Banks (D-SIB) of the Central Bank of Nigeria (CBN) resisted domestic and external economic challenges to declare impressive 2022 financial performance that led to dividend payout to shareholders.
The five big banks comprise of Access Holdings Plc, Zenith Bank Plc, Guaranty Trust Holding Company Plc, Ecobank Transnational Incorporated (ETI) and United Bank for Africa generated N1.1trillion profit before tax in 2022, an increase of 6.9 per cent from N1.03trillion in 2021.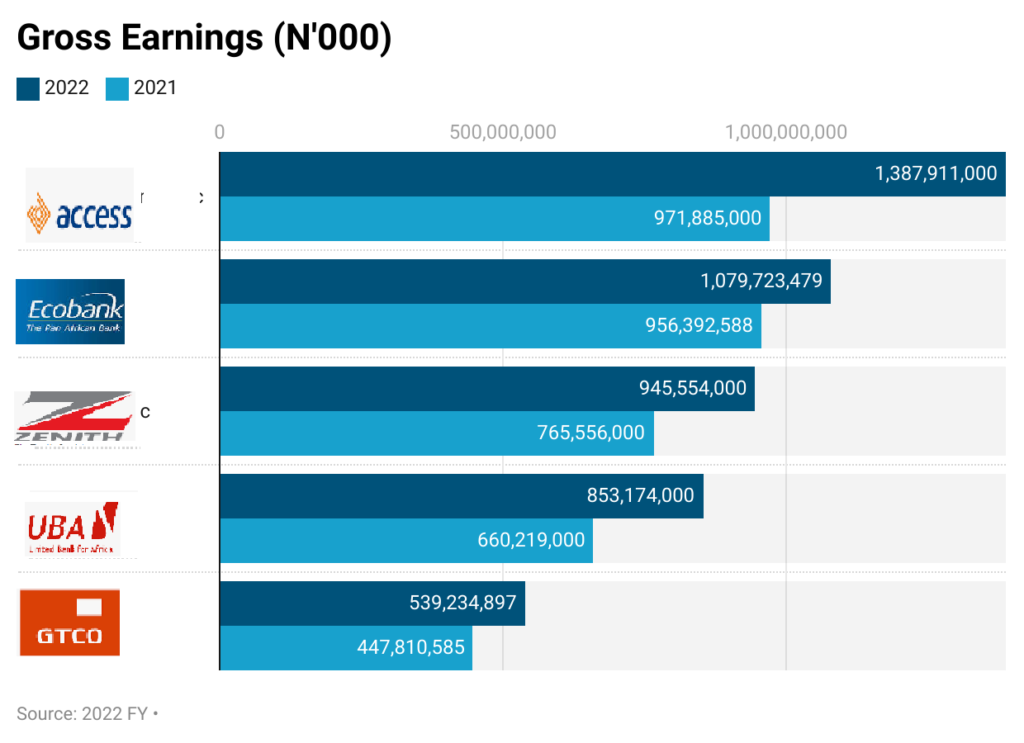 The breakdown of profit before tax in 2022 showed that UBA generated N200.88billion profit before tax in 2022, an increase of 31 per cent from N153.07billion in 2021, while Zenith Bank announced N284.65billion profit before tax in 2022, a growth of 1.5 per cent from N280.37billion in 2021.
As ETI declared N230.56billion in 2022 from N195.72billion in 2021, GTCO posted N214.155billion profit before tax from N221.5billion in 2021 and Access Holdings declared N167.68billion profit before tax in 2022 from N176.58billion in 2021.
The five banks also declared a whopping sum of N57.96trillion in total assets, which is about 78.76per cent of the industry assets that closed 2022 at N73.59trillion.
Access Holdings with its Africa expansion top the chart as the biggest bank by total assets, followed by ETI and Zenith Bank.
Access Holdings declared N15trillion total assets in 2022, an increase of 28 per cent from N111.73trillion reported in 2021.
For ETI, its total assets increased to N13.37trillion in 2022, up 14.4 per cent from N11.69trillion in 2021, while Zenith Bank declared N12.29trillion in total assets, a growth of 30 per cent from N9.45trillion in 2021.
The 2022 result and accounts is coming on the heels of global economy that is on a tight rope – ongoing  global banking crisis (Silicon Valley Bank, Signature Bank, Credit Suisse) with a possible trickledown effect on emerging economies including Nigeria; ongoing impact of Ukraine/Russian war; knock on effect of supply chain constraints from China lockdowns.
Others challenges include: Ghana's debt crisis that is affecting companies beyond its borders and central bank's hiked interest rates to combat inflationary pressures (particularly energy & food).
Double-dight inflation due to higher food and energy prices; tension towards the 2023 general elections; FX scarcity that eventually led to crash in forego exchange, were among domestic headwinds Nigeria's economy faced in 2022.
Despite Nigeria's annual Gross Domestic Product (GDP) growth rate slowing to 3.10 per cent in 2022, compared to 3.40 per cent in 2021, the five banks declared a significant increase in customer loans and advances and deposits.
Access Holdings, again leads other banks in loans and advances to customers, granting N5.1trillion in 2022, an increase of 23 per cent from N4.16trillion reported in 2021. ETI came close with N5.07trillion loans and advances to customers in 2022, 25 per cent higher than N4.06trillion loans granted to customers in 2021.
At N9.6trillion, ETI leads other big banks in deposits from customers, followed by Access Holdings that grew its deposits from customers to N9.25trillion in 2022 from N6.95trillion reported in 2021.
Stakeholders and analysts lauded the 2022 corporate earnings and dividend payout, among others, stating that financial institutions in Nigeria are resilient to overcoming domestic and foreign challenges and declared dividend from their earnings.
The Group Chief Executive Officer of GTCO, Mr. Segun Agbaje, in a statement said: "Despite the varying challenges and headwinds that weighed on growth in 2022, we were determined to deliver a decent performance and scale effectively to strengthen our competitive edge and drive long-term growth."
While commenting on the pan-African bank performance in 2022, the CEO of Ecobank Group, Jeremy Awori in a statement said: "Ecobank's strong 2022 performance reflects the strength of our diversified business model, growth momentum and efficiency, and was achieved despite operating in a challenging macroeconomic environment, which also included the difficulties that Ghana's debt restructuring exercise placed on us.