First lady tasks participants to practise lessons from seminar on protocol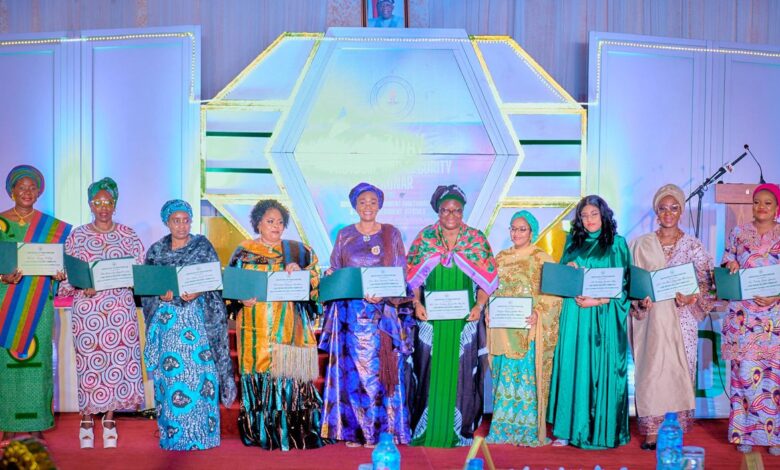 Wives of top government functionaries and other top female officials in Nigeria say they will strive to enhance the image of the country by paying more attention to their public conduct and security.
They made this collective resolution at the end of a three-day seminar on protocol and security, convened by the First Lady of the Federal Republic of Nigeria, Senator Oluremi Tinubu, CON in Abuja.
After eight papers delivered by experts on security, protocol, etiquette, improved public conduct and diplomatic relations, participants at the three-day seminar take stock.
For many of the participants who cut across former First Ladies of the Federal Republic of Nigeria, Members of the National Assembly, wives of NASS members, Wives of Governors and former governors, Female Deputy Governors, Ministers, wives of ministers, Wives of Service Chiefs among others, the 3 day seminar was an eye opener for them especially as it relates to security issues.
The participants expressed appreciation to the First Lady for building their capacity as role models and image makers for the country.
With the First Lady and former First Ladies, Turai Yaradua and Dame Patience Jonathan making inputs, the session recalled some of the lessons learnt during the seminar, particularly those that dwelt on the need for cultural intelligence, security awareness and proper conduct among participants and other women on the social media.
A meet and greet session by the convener of the seminar, First Lady of the Federal Republic of Nigeria, Oluremi Tinubu, set a relaxed tone day, as participants availed themselves the opportunity to interact with the First lady and share ideas on diverse issues.
The gathering had the opportunity to also view the video on the "Every Home a Garden" competition by the Renewed Hope Initiative, an Initiative of the First Lady, Senator Oluremi Tinubu, CON. The competition which is open to every woman from all the States of the federation, including the FCT entails them planting a garden at home whereby the harvest can provide food on their table and enough to give their neighbor. The winner of the competition which will be announced in December 2024 has a prize money of N20million naira.
The 3-day seminar on Protocol and Security was rounded up with the presentation of certificate of participation to the over 800 participants.