Gbajabiamila, Wase in altercation on the floor of the House of Representatives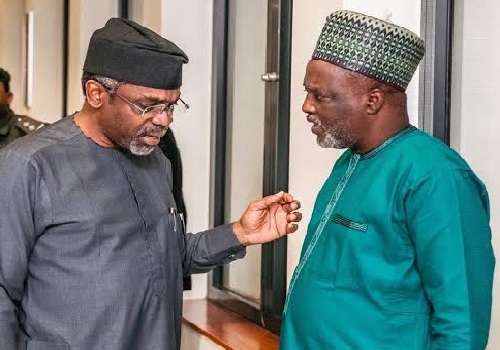 A tense altercation unfolded on Wednesday during the plenary session of the House of Representatives, as Speaker Femi Gbajabiamila and Deputy Speaker Idris Wase engaged in a heated exchange.
The exchange began when Gbajabiamila, before adjourning the plenary, asked Hassan Fulata, chairperson of the House Committee on Rules and Business, to ensure that the order paper for Thursday's session did not contain too many items, so that the plenary would not extend beyond 2 pm.
Gbajabiamila, addressing his colleagues, announced the inauguration of the permanent site of the National Institute of Legislative and Democratic Studies (NILDS) in Abuja, stating, "Chairman of Business and Rules, let's make the order paper light for tomorrow (Thursday) because we have this important event—the permanent site of NILDS. It is at 2:30 pm. So it will be good if we close by 2 pm."
Deputy Speaker Wase raised a point of order, objecting to Gbajabiamila's request to adjourn the plenary by 2 pm due to the NILDS inauguration. Wase argued that while lawmakers who wished to attend the commissioning should be allowed to do so, it was unnecessary to adjourn the entire session for that reason. He emphasized that the primary function of the parliament is to make laws and prioritize the needs of citizens.
"We have lost quite a number of periods of time. Why do we have to shelve a lot of activities that we have just to go and witness the commissioning of a project of NILDS? I want to beg, sir, that we should do our functions," Wase said.
Gbajabiamila responded, suggesting that Wase might not fully appreciate the importance of NILDS.
He said, "Perhaps, Deputy Speaker, you don't appreciate the importance of NILDS like some of us do. I think NILDS is very important."
Interrupting the speaker, Wase firmly informed him, "I have every information and idea of what NILDS is."
Gbajabiamila went on to explain why he desired the plenary to adjourn by 2 pm. He said, "NILDS was set up by this same institution (the National Assembly) by statute. We are not adjourning the house to go to NILDS. What I said was—let's try and make it light and leave here by 2 pm. If you want, we can resume by 10 am. We will do our work, but we will adjourn this house at 2 pm. I will witness NILDS (inauguration) because it is important to me."
Disagreeing with the speaker, Wase said, "The parliament is about us, not about 'I'," alluding to Gbajabiamila's earlier statement.
Visibly offended by Wase's confrontation, Gbajabiamila expressed his surprise, saying, "Mr. Deputy Speaker, this is the first time in history. I have been in this house for many years, perhaps even longer than anybody here. This is the first time in history that a deputy speaker will be challenging what the speaker is saying."
Wase interjected, seeking clarification, "I don't understand what you mean by challenging, sir. That I should not make my contribution?"
Gbajabiamila reiterated his request to Fulata that the order paper should not be overcrowded, emphasizing the intention to adjourn the plenary by 2 pm on Thursday.
Both leaders of the House of Representatives have not been in the best of relationships since the All Progressives Congress picked Tajudeen Abbas and Benjamin Kalu as the preferred candidates for the positions of speaker and deputy ahead of Wase who was also interested in the number one position.