Senate passes Investment and Securities Bill aims at reforming capital market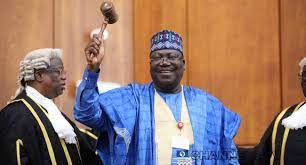 The nation's capital market received a major boost on Wednesday as the Senate passed into law, the Investments and Securities Bill 2023.
The Bill which is expected to aid the functioning of the capital market and facilitate the ongoing economic diversification in the country among others, had been passed by the House of Representatives last December.
During plenary on Wednesday, Senate President, Ahmad Lawan while announcing the passage of the Bill, stated that, it is expected to protect investors, adequately regulate the market to reduce systemic risks as well as provide for more stringent punishment for operators of Ponzi schemes.
"The Bill for an Act to repeal the Investments and Securities Act No. 29 2007 and enact the Investments and Securities Bill 2023 to service the SEC as the apex regulatory authority for the Nigerian capital market as well as regulation of market to ensure capital formation, to protect investors, maintain fair, efficient and transparent market and reduction of systemic risk and for related matters is hereby passed," Lawan said.
Chairman of the House Committee on Capital Markets and Institutions, Hon. Babangida Ibrahim had recently stated that the ISB is capable of transforming the capital market, encourage the influx of foreign investors as well as boost investors' confidence, among others.
Ibrahim said: "The Bill seeks to repeal the existing Investments and Securities Act 2007 and to establish a new market infrastructure and wide ranging system of regulation of investments and securities businesses in Nigeria especially in the areas of derivatives, systematic risk management, financial market infrastructure and Ponzi scheme and platforms.
"Other areas the bill addresses are alternative trading systems, inclusion of National Pensions Commission as part of the board of the Securities and Exchange Commission, deletion of the provisions on merger control in the current Act and amendment of the criteria of borrowing by sub nationals and strengthening and enforcement powers of the Securities and Exchange Commission in line with the requirement of the International Organisation of Securities Commissions (IOSCO)."